A Warm Welcome and Abundant Blessings!
Embody Your Bliss is a unique program from

Awaken Unity

designed to enhance your sensual experiences of life. It is true we are Spiritual Beings - AND - we are having a Human Experience. We thrive when we are in beautiful partnership and harmony with our bodies and all of Life.

Embody Your Bliss services are aimed at helping you embrace the fullness of harmony, joy, and potential available in every life event, relationship, and body experience. Through Embody Your Bliss services, the benign, loving nature of everything is accepted and realized on all levels, including the body/mind. This acceptance and realization moves us toward fulfillment, as we unify with the Divine Guiding Source. When all is received in support of us, we are in full relationship with Life - we are in BLISS! Within this site you will find tools, wisdom, services and course offerings to encourage and facilitate your deepening into the pleasure and inner-peace that is your birth-right. Discover the sheer bliss of embracing and honoring your life!
Boldly Live Your Magnificent, Essential Nature ~ Embody Your Bliss!!


What does it mean to 'Embody Your Bliss'?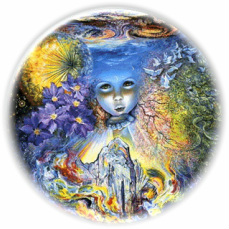 Bliss can be found within the total allowing of what is so for you at any given moment. To embody bliss is to live life from a space in which all things (i.e., beings, emotions, aspects of personality, occurrences, innate skills, and seeming weaknesses) are understood as sacred, and thus, fully received as grace-filled blessings, supports, and guides for experiencing our truest hearts' desires. When we live from this space of deep relaxation into our experience and receptivity to all that is, we experience the bliss of unity. We know the safety and support of allowing the evolution of self to be the solid ground upon which we stand. We begin to live within the void, each moment unfolding its potential, not needing to know beforehand how it will feel, look, turn out, etc., because we are living in Trust. Not a trust that requires effort or thought, but one that is so complete that we can feel the very pulse of the universe within our bodies – and that pulse feels GOOD!

One of the first steps to living such a complete embodiment of bliss, requires the ability to tap into that which is so for us; to tap into our innate and inherent drives and motivations, and our soul-level impulses. As a society, we have become accustomed to over-riding, ignoring, or not even listening in the first place to what is so for us. We may find that we push ourselves to achieve, try to follow the 'rules' and to be 'good' people, etc. All the while, we are missing the essential cues from our inherent wisdom that could really lead us into fulfillment, if we were to ask the questions and listen for answers without judgment or condition. In fact, sometimes we have gotten so far away from the ease of listening to our own knowing that we can't even seem to connect with that part of us that knows how we feel and what we want. To embody our bliss, we must first be able to identify and feel where our bliss is alive and thriving, and then be able and willing to follow where it leads.

Another key aspect of tapping into what is so for us, is the willingness to connect to, know, fully acknowledge, and allow the activation and expansion of our True Nature – to see and live WHO WE ARE. I call this cultivating our Divine Seeds. In the cultivation of our Divine Seeds, we must move into harmony with the nature of life. The nature of life includes cycles: births, and deaths, sleeping and awakening, nourishing and being nourished, movement and stillness, flowering and shedding. In moving into harmony with our True Nature, we must befriend these aspects of life, including the wrongly feared forces of dismantling, death, and destruction that hold within them the opportunity for our next great birth. As we move into greater and greater receptivity to our life, potential is activated, creative juice flows, and we experience the Nectar of our True Nature – our Divine Seeds have sprouted and are growing brilliantly.

---